Guitar Hero Live is going to have some terrible songs on it and people are still going to buy it. If you've ever bought Guitar Hero or Rock Band, you know there's those songs on it you just never want to play and dread your friends picking, like Ruby by the Kaiser Chiefs. The first 24 songs for Guitar Hero Live were announced today and they're an… Interesting bunch, with some classics, some newer songs mixed in and then… Skrillex? Here's a closer look:
Newly Announced Artists and Tracks:
· Judas Priest – "Breaking the Law"
· Pantera – "Cowboys From Hell"
· Alter Bridge – "Cry of Achilles"
· Rage Against the Machine – "Guerrilla Radio"
· Red Hot Chili Peppers – "Higher Ground"
· Sleigh Bells – "Bitter Rivals"
· System of a Down – "Chop Suey!"
· Black Veil Brides – "In The End"
· The Pretty Reckless – "Going to Hell"
· Broken Bells – "Leave it Alone"
· Alt-J – "Left Hand Free"
Previously Announced Artists, Newly Announced Tracks:
· The Rolling Stones – "Paint it Black"
· My Chemical Romance – "Na Na Na"
· Fall Out Boy – "My Songs Know What You Did in the Dark (Light Em Up)"
· Green Day – "Nuclear Family"
· Pierce the Veil – "King for a Day (feat. Kellin Quinn)"
· Blitz Kids – "Sometimes"
· The Black Keys – "Gold on the Ceiling"
· The Killers – "When You Were Young"
· Gary Clark Jr. – "Don't Owe You a Thang"
· The War on Drugs – "Under The Pressure"
· The Lumineers – "Ho Hey"
· Ed Sheeran – "Sing"
· Skrillex – "Bangarang"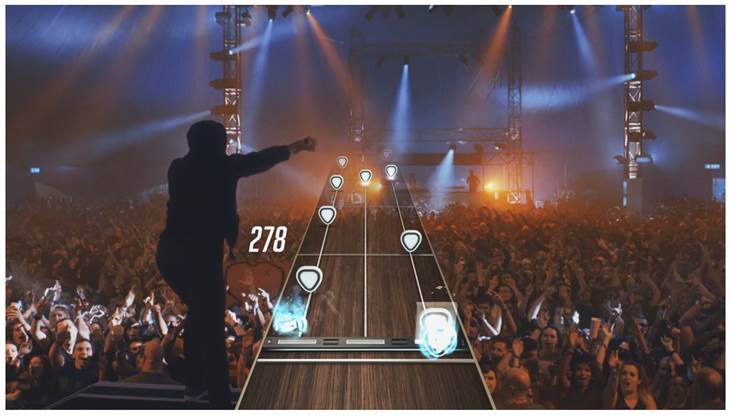 Speaking personally, there's some songs that I'm happy to see on there, Breaking the Law, Cowboys from Hell, Paint It Black, Going to Hell, and Sing are all songs that are going to be fun to play. The only one I personally draw issue with is Bangarang. I don't understand it's purpose of being there. It seems like the kind of song that's tagged along on a day out to a theme park even though it doesn't like roller coasters, hot days, queues or eating sugar in the purest of forms.
In what is being called… Ahem "#TracklistTuesday" (Yep, it even included the hashtag in the e-mail) we can apparently expect new songs to be announced every week, drip feeding us information slowly, as hungry plastic guitar kings sit feverishly at their computers, waiting to know if Smoke on the Water or Iron Man are going to be added. Don't get me wrong, more songs are a good thing, especially with the lack of backwards compatability with our existing libraries, but for a game with a release date of sometime in 2015 towards the end, they're going to run out of songs in a few weeks and then it will go back to silence for a few months and everyone will forget.
So let's see what Activision cook up for next week's songs, personally I'm hoping for Metallica, Nirvana and Taylor Swift.